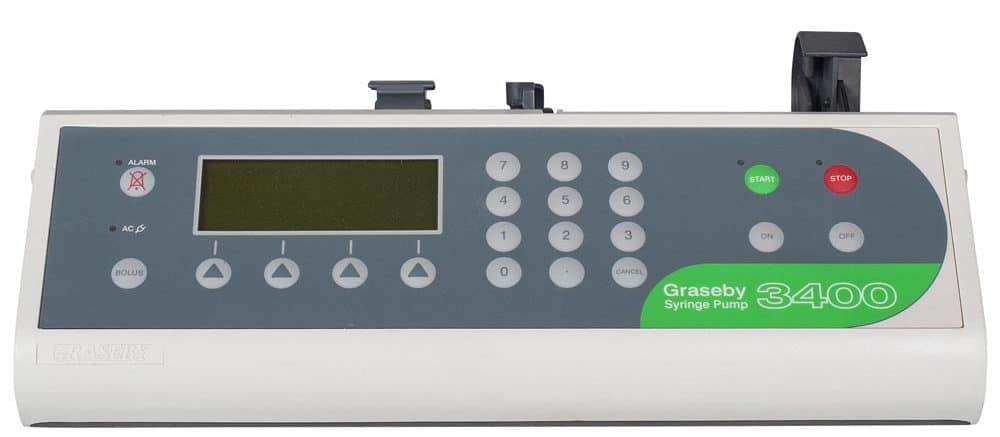 Smiths Medical Graseby 3400
The Graseby 3400 can infuse virtually any IV drug with a range from 0.1-1200ml/hr. It has multiple unit selection, syringe size flexibility, simple operation, is AC or battery operated and has an accuracy of +/-2%.
The Graseby 3400 is a micro-computer controlled device developed by Graseby Medical for the administration of sterile liquids. This compact, robust pump is designed to sit on a table top or to be pole mounted. It can be configured to work with one of a range of brands of syringe, and the brand that the pump is presently configured for is displayed.
The pump caters for syringe sizes of 5, 10, 20, 30, 35, 50 and 60 ml, the size is automatically sensed and displayed.
0.1 to 1200.0ml/hr infusion rate.
Dose rate calculator.
"Hands-Free" bolus/induction preset.
Accepts 5 to 60ml syringes, from all major brands.
RS232 Serial link for remote monitoring and control of infusion.
AC mains and battery powered.
More than 10 hours' battery life.
Simple menu-driven operation.
Comprehensive safety self check, with clear alarm messages.
Drip-proof.
Follow the link below for the Smiths Medical Graseby 3400 operator's manual:
Low Battery
Invalid Syringe
Everything that comes out of our shop has been cleaned, serviced, and is ready for use.
Give us a call: