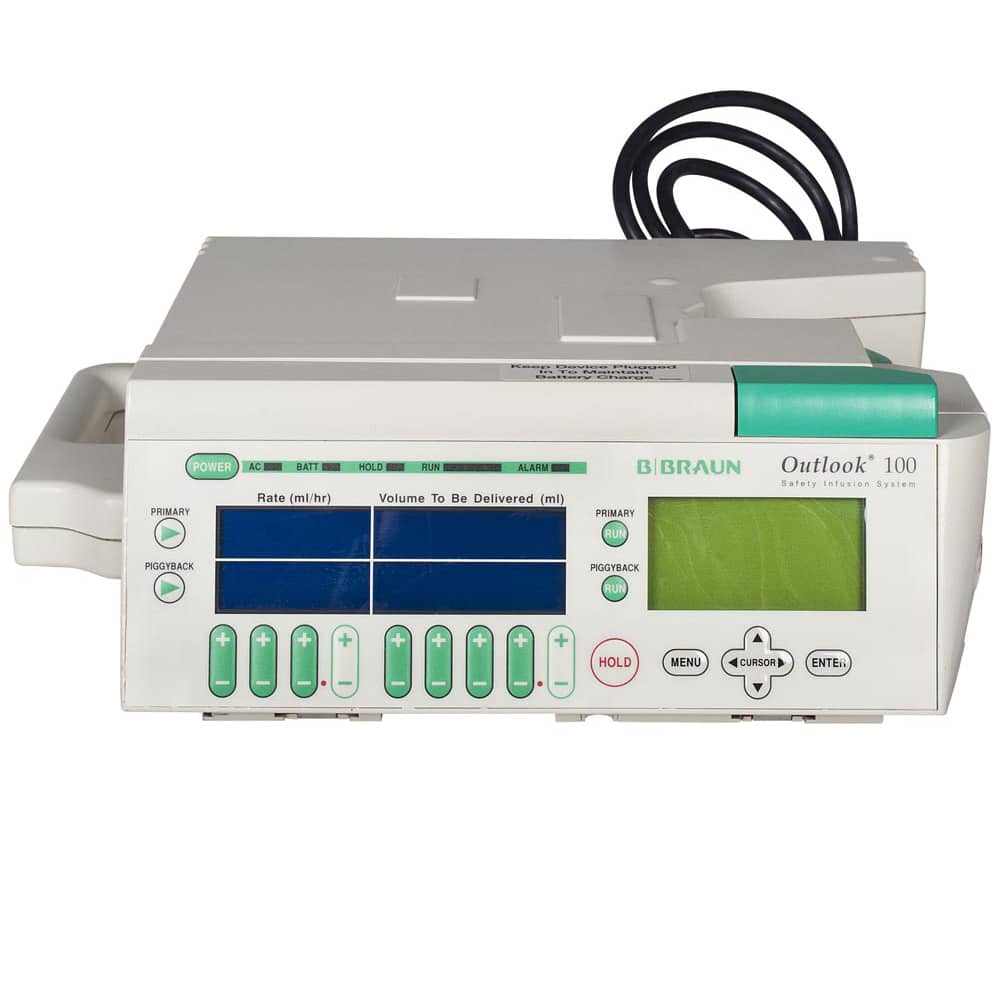 B. Braun Outlook 100
The B. Braun Outlook is a large volume pump designed to help eliminate errors with IV medication. The pump can be programmed via hand held PC.
The Outlook 100 helps to ensure that the right patient receives the right medication in the right dose to prevent IV medication errors. The device uses audible and visual alerts to avoid under or overdosing of medication. The system also features a large color display and extensive customizable drug library that allows you to configure the pump to match your clinical practice.
The B. Braun Outlook 100 is intended for use with B. Braun Medical Inc. Horizon Pump IV Sets to regulate the flow of primary and secondary fluids when positive pressure is required. The infusion system is capable of delivering fluid from a negative head height (when the IV fluid container is lower than the pump), and provides clinically accepted volumetric accuracy for all standard IV fluids, including blood, lipids, and Total Parenteral Nutrition (TPN).
Positive pressure is frequently a necessity, but clinical experience shows that high pressure limits may increase the severity of an infiltration without causing an alarm. Because there is a need to control pump pressure settings, the Outlook ES has user-selectable Occlusion Limit settings which start at 75 mmHg and extend to 750 mmHg.
The pump is equipped with distinct audible and visual alarm signals to indicate Keep Vein Open (KVO), low battery, and other alarm conditions.
Follow the link below for the B. Braun Outlook 100 operator's manual:
Everything that comes out of our shop has been cleaned, serviced, and is ready for use.
Give us a call: