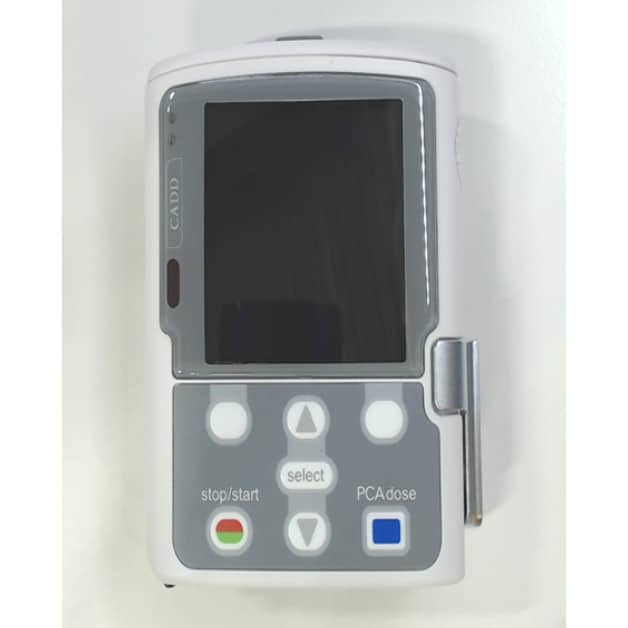 Smiths Medical CADD-Solis PCA 2100
The CADD Solis ambulatory infusion pump is designed for use in intravenous, intra-arterial, subcutaneous, intraperitoneal, in close proximity to nerves, into an intraoperative site, epidural space, or subarachnoid space infusion. The pump is intended for therapies that require a continuous rate of infusion, patient-controlled demand doses, or both.
The Smiths Medical CADD-Solis 2100 Ambulatory Infusion Pump allows for patient mobility while providing clinicians with the confidence of reliable pump performance, accurate medication delivery, and an easy-to-use, patient-friendly system.
Safe – Meet your institution's medication safety goals. Reliable CADD® smart pump technology meets infusion pump guidelines to promote patient safety and reduce the risk of medication delivery errors.
Simple – Reduce your training time with therapy related information in an easy-to-understand format. The intuitive user interface is patient-focused and therapy-oriented.
Smart – Tailor, titrate, and track pain management with the only pump integrating Programmed Intermittent Bolus (PIB), Patient Controlled Analgesia (PCA), clinician bolus, and continuous delivery. Graphs and reports provide trending data and delivery history for easy patient assessment, continuous quality improvement, and better patient outcomes.
Follow the link below for the Smiths Medical CADD-Solis PCA 2100 operator's manual:
Everything that comes out of our shop has been cleaned, serviced, and is ready for use.
Give us a call: