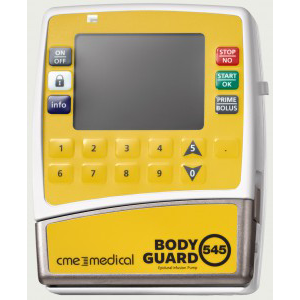 CME BodyGuard 545 Epidural
The CME Bodyguard 545 Epidural is an ambulatory pump that performs patient controlled analgesia, and is setup specifically to handle epidural infusions.
Product Details
The BodyGuard 545™ Epidural Infusion Pump is a dedicated, colour-coded pain management system for epidural infusions, offering Dose Error Reduction System (DERS). It has a potential library of 26 protocols which can be set up to the patients needs or pain management speciality in the hospital or homecare environments.
Delivers 4 Infusion Programs:
Basal only
Basal & Bolus
Bolus only
Auto Bolus
Error Codes
door open
air in line
missing set key
Related Accessories
We can ship overnight anywhere in the U.S.
for
no additional

charge!