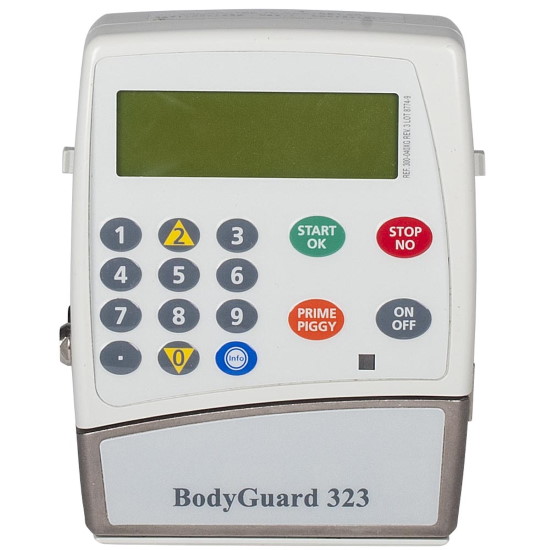 The CME Bodyguard 323 is an ambulatory pump that performs patient control analgesia, total parenteral nutrition, and continuous infusions. 
Product Details
Bodyguard 323 infusion pumps offer multiple infusion options for patient therapy. These compact ambulatory pumps are capable of supporting Continuous, Intermittent, TPN (Total Parenteral Nutrition), PCA (Patient Control Analgesia), and 25-Step therapy modes.
The relatively small device has a lightweight design that is convenient in the patient care area. The CME Bodyguard 323 is equipped with a rechargeable battery, high flow rates and a 500-event pump log that lists detailed patient history and therapy sessions.
Support better patient outcomes with multiple infusion options and a more accurate application of therapy with a Bodyguard 323. Compact ambulatory pump supports continuous, intermittent, TPN, PCA and 25-Step therapy modes. Lightweight design (13.8 oz) enhances patient convenience and comfort by providing a less obtrusive therapy
Operator's Manual
Follow the link below for the CME Bodyguard 323 operator's manual:
Error Codes
door open
air in line
missing set key
Related Accessories
We can ship overnight anywhere in the U.S.
for
no additional

charge!